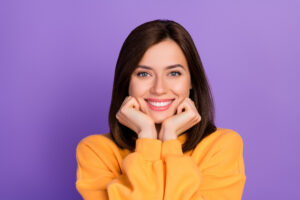 If you want to show off big smile improvements, you have to arrange significant dental work…right? What you can find is that a conservative cosmetic dental procedure can have an outstanding effect on the way you look. Our Livonia/Detroit, MI area dental practice can offer striking results in less time, and with less overall work, than you expect. We can talk with you about your goals with treatment and what your procedure might involve. Whether your concerns center around the current color of your enamel, the condition of your teeth, or their relative sizes and alignments, we can help you see positive results.
Conservative Work On Your Tooth Structure Can Lead To Exciting Improvements
Dental work that makes striking changes to your smile can take less time and effort than you anticipate. What this means is that you can have an easier time arranging care while also seeing your desired improvements sooner. For many people, cosmetic dentistry can provide the right kinds of changes. These services focus on esthetic improvements while minimizing the overall changes to your tooth structure. In some cases, we may recommend more advanced solutions. This is done to address oral health problems such as advanced dental damage or tooth loss. In these cases, we can provide meaningful changes to your bite function and overall dental health while we also make your desired changes to your smile.
Options For Restoring Teeth That Are Damaged, Misshapen, Or The Wrong Size
Cosmetic dentistry provides different solutions to common smile flaws. One option is to reshape and brighten teeth as needed through tooth bonding and tooth contouring work. These services let us target flaws without the need for permanent restorations, making services more conservative. We can also recommend care with porcelain veneers, thin shells that cover just the front surfaces of your teeth. With their placement, we can offer noteworthy and long-lasting improvements. Before recommending these or any other cosmetic services, we will evaluate your oral health and look out for any problems that might require more supportive restorations, like dental crowns, that provide protection and bite support along with esthetic changes.
Preserving Your Smile After Recent Dental Work
Whether you have recently undergone cosmetic work to improve your smile or have yet to book any procedures, our practice can help you maintain the look and condition of your teeth. We do so by offering guidance along with important routine preventive services. These services include both the cleaning and careful review of your tooth structure in order to limit your risks for future issues.
Talk To Your Livonia/Detroit, MI Area Dentist About Improving Your Smile!
To find out how we can offer meaningful smile improvements with conservative care, call Dr. James Stewart, DDS in Livonia, MI at (734) 425-4400.