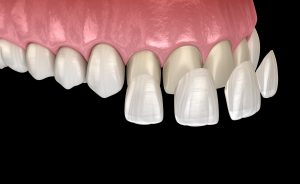 When you have multiple issues with your smile's health, function, and appearance, then we may need more than a single treatment option. Instead, you may benefit from a full mouth reconstruction, which combines multiple treatment options. In today's blog, your Livonia, MI, dentist will discuss how we repair and rebuild your smile.
When You Need One
If you have several problems with the health, function, and beauty of your smile, then you may need multiple treatment options. For example, if you have decay or infected teeth, as well as missing ones. Or if you have issues with the shape and color of your teeth, or misalignment, then a plan to restore your smile may involve a combination of our general, cosmetic, restorative, and prosthetic dental treatments.
Crafting a Treatment Plan
To begin, we will take a series of clear and detailed images of your teeth, jaw, oral structures, and roots. These digital x-ray and digital camera images will allow us to design and assess the cause and severity of your oral health issues. We will also talk to you about any symptoms you experience, and your hopes for your smile. From there, we create a personalized treatment plan to address these issues, often in as little as two visits.
Cosmetic, Restorative, and Prosthetic Solutions
To improve the beauty of your smile, we could use professional teeth whitening to remove stains, boding to repair minor damage, or porcelain veneers to instantly improve the shape and color of a tooth. If a tooth is decayed, we could place a tooth-colored filling, or use a crown to address more severe decay or infection. Clear aligners could correct misalignment, and if you have missing teeth, we could discuss replacement with a single tooth dental implant, or we could secure a bridge or fixed denture with multiple dental implants. We also make sure these repairs improve overall balance, helping you avoid issues like TMJ disorder and bruxism (teeth grinding). Every reconstruction is different, as each smile is unique. We want you to feel comfortable and confident with showing your smile, and also avoid worsening discomfort or complications in the process.
If you have any questions about how we rebuild and reconstruct a smile, or if you have issues that need attention, then contact our team to learn more.
DO YOU HAVE QUESTIONS ABOUT FULL MOUTH RECONSTRUCTION?
Whether you have minor damage or major gaps in your smile, we can offer a reconstruction. For more information on repairing and rebuilding your smile, often in as little as one to two visits, then call the office of James Stewart, DDS in Livonia, MI, today at (734) 425-4400. You can also visit our office at 15873 Middlebelt Rd Suite 100 Livonia, MI 48151.