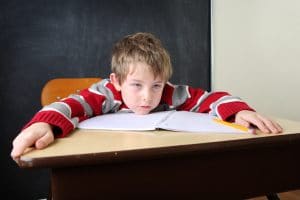 Do your children have trouble going to sleep or staying asleep? Poor rest could lead to serious issues for a child's emotional growth and development. Fortunately, an orthotropic oral appliance could help children in Livonia, MI, rest easier and avoid sleep disorders later in life.
Indicators of Poor Sleep
Children with poor sleep may wake multiple times during the night, or cry out and talk while sleeping. Others have trouble getting to sleep or waking up in the morning. Moodiness during the day is common, as well as behavioral problems or difficulty reaching emotional and developmental milestones. In fact, some children may even be diagnosed with ADD or ADHD. If one or more of these possibly symptoms applies to your little one, then see us right away. We can perform a diagnosis to see if your child benefits from treatment.
Possible Complications
Issues with sleep are often caused by obstructed breathing. Issues with the development of the jaw or oral structures could lead to issues sleeping and later in life, a greater risk of misalignment and obstructive sleep apnea. These two complications impact the overall health of a patient as he or she enters adulthood.
Orthotropic Treatment
We will custom-make an orthotropic device, which will be worn as the patient sleeps. The oral appliance actually guides the growth and development of the jaw and the oral tissues. Over time, this means open airways as they sleep and unencumbered breathing. Children rest easier and avoid the risk of sleep apnea and misalignment later in life. If you have any questions about orthotropics, or if you think your child could benefit from treatment, then contact our team today.
Does Your Child Need Orthotropic Solutions?
Don't let poor sleep have a negative impact on your child's growth and development. Contact our team to talk about possible orthotropic solutions. James Stewart, DDS, and our team serve patients from Livonia, MI, as well as Farmington Hills, Farmington, Plymouth, Northville, Novi, Dearborn Heights, Dearborn, Garden City, Westland, Redford, and the surrounding communities. To schedule a consultation, call our office today at (734) 425-4400.