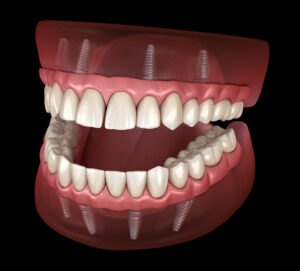 When you have lost the majority of your teeth, a full set of dentures can be created to restore your ability to eat your favorite foods again, and even smile without hesitation. In today's blog, your Livonia, MI, dentist talks about how we help with both removable and implant-secured sets of dentures.
The Causes of Missing Teeth
Why do we lose all of our natural teeth? While issues like injuries, tooth decay, and dental infection are linked to minor and severe tooth loss, total loss is often due to periodontitis. This is the advanced stage of gum disease, the one responsible for most cases of adult tooth loss. When you find most or all of your teeth gone, this means that you're severely limited in what kinds of foods you can eat, and your ability to speak clearly is impaired. For others, this could mean painful aches in the jaw, ears, and head as TMJ disorder and bruxism develop, as these complications are linked to changes in the balance of your bite. Finally, an older appearance is common because the jawbone loses mass and density around missing tooth roots, causing a break down that ages your appearance quickly.
Removable Dentures
To restore function and beauty to your smile, we could discuss removable dentures. This is often recommended for people who don't want to invest in implants, or have jawbone that would require grafting or sinus lift sot be implant-ready. These contain a full row of lifelike teeth set in an acrylic base that looks like gum tissues. Suction or an adhesive keeps them in place, and they tend to last about 5 to 10 years on average. They also need to be removed for cleaning and soaking.
Implant-Supported Dental Prosthetics
With dental implants, we insert between four and six posts per arch and attach your denture to them. Your prosthetic is now fixed in place and never slips, and never needs to be removed for cleaning and soaking. Since they stimulate jawbone growth, this prevents the breakdown linked to an older appearance. Your new dentures can last for decades to come. If you have any questions about these two options, and want to decide which is right for you, then contact our team today to learn more. We would love to help you or a member of your family enjoy a complete smile again.
TALK TO YOUR LIVONIA/DETROIT, MI DENTIST ABOUT PROSTHETIC DENTISTRY
Our team wants to help replace missing teeth and secure a dental prosthetic that restores your smile. If you want to know more about treating severe cases of missing teeth, then please contact your Livonia, MI, dentist, Dr. Stewart, by calling (734) 425-4400. You should always feel proud to smile, and also have the ability to eat without difficulty!