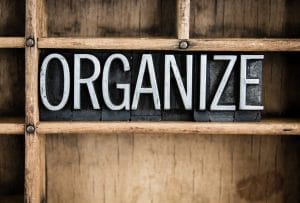 Did you know that you might be able to get better oral health for yourself by getting organized? If you've never really considered the way you set up your days (and months and year, etc.) then you may be overlooking a very important and helpful tool. You may feel like getting dental hygiene and visits accomplished is some sort of very haphazard art form. Fortunately, you don't have to feel like you're scrambling with your smile care. Instead, with just a little bit of structure, you can feel like it's easy breezy.
Organize Your Daily Care
Your daily care provides you with the bulk of protection for your oral health, which means it's a very good place to start. How to organize your dental care for your day, you wonder? Just focus on setting up consistent hygiene times. Make a decision about when you'll brush in the morning and when you'll brush at night. Decide which of these two times will include flossing. Done!
Organize Your Bathroom, Too
If your bathroom isn't organized, then when you do get in there for your organized dental hygiene experiences, they might feel scattered. Make everything easy but organizing your space. This doesn't take much. Just ensure the products you need are within reach and that they're ready (for instance, if your toothpaste tube is almost empty, purchase a new one!). It's simple and can work wonders for your oral health.
Organize Your Annual Care, As Well
Do you fret over cleanings and checkups, always worried that it's been too long? Get organized with ease: Call us today. Set up your next visit. Then, in the future, always set up your next appointment on your way out of our practice.
Call Us To Organize Your Visits
Set up your day to day living, the products you need, and your visits for optimal smile health. Need help? Just ask us! James Stewart, DDS, and our team serve patients from Livonia, MI, as well as Farmington Hills, Farmington, Plymouth, Northville, Novi, Dearborn Heights, Dearborn, Garden City, Westland, Redford, and the surrounding communities. To schedule a consultation, call our office today at (734) 425-4400.