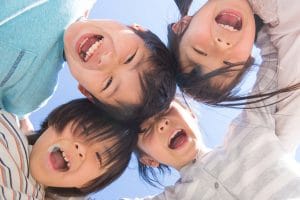 When our young patients suffer from poor sleep and breathing obstruction, we may often treat the issue with a Biobloc orthotropic appliance. Along with improved sleep, these devices have also offered a number of long-term benefits, including a reduced risk of dental misalignment. How do orthotropic appliances prevent dental misalignment in Livonia, MI?
Poor Sleep and Uneven Smiles
When kids have trouble sleeping, this could be linked to problem with the growth and development of the oral tissues. These difficulties may cause breathing problems, obstructing airflow. As children stop or struggle breathing in the night, the body may try to create new air passages, leading to acid reflux and other complications. Over time, breathing obstruction due to problems in the jaw and oral tissues has been linked to a myriad of problems later in life, including dental misalignment, poor facial structure, and even sleep apnea. Warning signs of trouble may include moodiness and tantrums at home and school, difficulty concentrating on tasks, problems waking up and going to bed at night, falling asleep in the day frequently, restless sleep (movement, walking, talking), and waking in the night multiple times. If your child exhibits one or more of these common symptoms, then please see us right away.
Treatment Options
Once we perform a diagnosis and decide your child benefits from treatment, we will take detailed impressions and measurements of your child's smile, which we use to create a custom-made Biobloc appliance. Worn like a mouthguard at night, the device actually moves the jaw to keep airways open and promote more productive sleep. Over time, the device also guides the growth of the jaw and oral tissues, a process that helps improve facial structure and ensure open airways later in life, reducing the risk of sleep apnea in adulthood.
The alignment of the teeth also benefits, as correcting the jaw's growth helps improve alignment and decreases the need for braces or retainers as your child grows. We can see children as young as age three to begin treatment and help improve your child's quality of life. If you have any questions about correcting sleep troubles, or about the custom Biobloc appliances we offer, then please contact our team today. We're here to address any questions or concerns you may have, and help your child enjoy optimal oral health, better sleep, and brighter smiles.
Ready to Try a Biobloc Appliance?
Our team would like to help your little one enjoy a better night's rest with a custom-made oral appliance. Contact our team today to learn more about our approach to orthotropic treatment and improving sleep in kids and adults alike. James Stewart, DDS, and our team serve patients from Garden City, Westland, Redford, MI and the surrounding communities. To schedule a consultation, call our office today at (734) 425-4400.