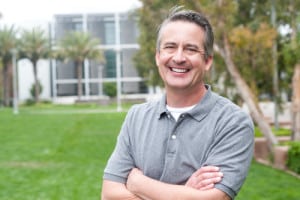 What happens when a tooth develops a cavity or becomes chipped or fractured? At this point, you will require treatment to avoid a dental infection or the potential loss of a tooth. With restorative procedures, we can repair and even replace a tooth if necessary. What is restorative dentistry? Who qualifies for these treatments?
Tooth-Colored Fillings
One of the most common restorative procedures is a dental filling. When a tooth develops a cavity, we can remove the decayed portion and place a filling. Made from a metal-free composite, our fillings are tooth-colored and blend with the surrounding tooth structure. We can use this same material in a dental bonding procedure, which is designed to repair teeth that have become chipped or fill in gaps between teeth.
Dental Crowns
A crown fits completely over the visible portion of the tooth. Made from porcelain, a crown can mimic the appearance of a natural tooth. We use crowns for a number of situations, including:
Restoring chipped teeth
Addressing dental fractures
Restoring teeth following a root canal procedure
Anchoring a dental bridge into place
Completing a dental implant
Cosmetic repairs for misshapen or malformed teeth
The entire procedure takes about two visits and the resulting restoration can last for decades with proper care.
Tooth Replacement
In addition to repairing a damaged tooth, we can also use restorative techniques to actually replace a lost tooth. With a dental bridge, we use crowns to secure one or more replacement teeth. Dentures offer a lifelike solution for patients missing most or all of their teeth on one or both arches. Finally, dental implants are inserted surgically into the jawbone, where they bond with the bone tissue like a natural tooth. We can place one implant or several in order to secure a fixed prosthesis. Many people prefer this option since dental implants can provide 25 years or more of quality tooth replacement.
ABOUT YOUR LIVONIA RESTORATIVE DENTIST:
James Steward, DDS, and our compassionate staff proudly serve patients of all ages from Livonia, Farmington Hills, Plymouth, Northville, Dearborn Heights, Garden City, and all surrounding communities. To schedule a consultation, call our office today at (734) 425-4400.