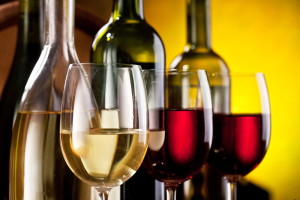 Soda is not good for your teeth. It is filled with sugar and also contains acids that eat away at your enamel. But what about wine? Wine contains sugar and it's acidic. Some say wine is fine for your teeth. Others say wine is bad for your teeth. Today your Livonia, MI dentist, Dr. James Stewart, talks wine facts.
Wine Facts
Red Wine: Red wine is known for its health benefits. Antioxidants found in red wine help reduce the risk of heart disease, and can lower sex hormones that cause breast cancer. The red grapes used in certain kinds of wines are known to lower cholesterol. But, how do red wines fair when it comes to dental health? Red wines can be good for your dental health. For instance, red wine contains polyphenols which reduce inflammation and as a result may help reduce the risk of gingivitis, a mild form of gum disease. Other chemicals found in red wine, called proanthocyanidins, help prevent harmful oral bacteria from sticking to your teeth, reducing the risk for periodontal disease which is the major cause of tooth loss.
On the other hand, the acidic nature of wine can erode tooth enamel causing decay, and tannins– which add bitterness and astringency, and are mostly found in red wine–can stain teeth over a period of time.
White Wine: The pros and cons of red wine are well known because red wines have been the subject of numerous studies. White wines, not so much. However a recent study has shown that white wine is more damaging to your teeth than red wine.  A German research study soaked teeth extracted from men and women ages 40 to 65 in various white and red wines for up to two hours. When analyzed under a microscope, the teeth soaked in white wines were more damaged than those soaked in red wines. Tooth enamel eroded at a faster rate in the white Chardonnay's and Pinot Grigio's, compared to the red claret's and Merlot's.
Tips
Any drinking should be done in moderation.
Do not brush your teeth directly after drinking wine. Acid softens tooth enamel and brushing too soon can cause damage to the enamel.
After drinking wine, rinse with water to remove acids and tannins from your teeth.
About Dr. Stewart
James R. Stewart, Jr, DDS, PC and our compassionate staff proudly serve patients of all ages from Livonia, Farmington Hills, Plymouth, Northville, Dearborn Heights, Garden City, and all surrounding communities. If it's time for a professional cleaning, call our office today at (734) 425-4400, to schedule an appointment.