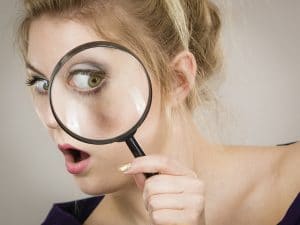 Yes, of course, there are times when you see a change with your oral health, you know that something must be wrong, and you call us right up. Maybe you recognize gum tissue that appears purple, you know it must be gum disease, you come in to see our Livonia, MI team, and we offer immediate help. In many cases, your sense of sight is extremely beneficial in keeping your smile safe. However, this is not always the case. While we do not wish to deter you from letting us know when you see something different, we do want to remind you that you'll need to rely on more than meets the eye when you're striving to offer yourself complete and effective dental care. Learn more!
Discoloration Doesn't Always Mean Problems (And Vice Versa)
You might think that because your smile doesn't look too good (perhaps you have some staining) that it must be unhealthy. After all, if it looks dirty, then doesn't that mean something is wrong? You may already recognize that if you are taking excellent care of your oral health but you have stains, this isn't always an indicator of bad smile health. The good news, of course, is that we can erase problems with cosmetic treatments, so your smile looks healthy, too. With that said, remember that you cannot trust the opposite either, which is to say that just because your smile manages to remain white and vibrant doesn't mean it's healthy. Keep up with checkups and cleanings, even when it appears that all is well!
Inflammation Isn't Only Linked To Gingivitis
Don't lose your cool if you notice gum inflammation. Might it be gingivitis? Yes, it can mean that you require oral health help to get your gingival tissues calm again (which, thankfully, is something we can absolutely offer you!). However, swollen tissue can also occur due to accidental irritation and other issues. Before you make any assumption, come in to see our team. We can tell you what's really going on, fix your smile, and you'll be good as new!
Come In For The Complete Protection Your Smile Needs
Remember, you offer yourself a significant amount of dental care and we take care of the rest! All you need to do for comprehensive protection is to remember to schedule your visits with us! James Stewart, DDS, and our team serve patients from Livonia, MI, as well as Farmington Hills, Farmington, Plymouth, Northville, Novi, Dearborn Heights, Dearborn, Garden City, Westland, Redford, and the surrounding communities. To schedule a consultation, call our office today at (734) 425-4400.