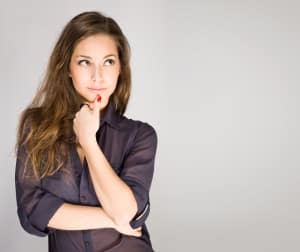 Discovering an amazing cosmetic treatment can instantly cause you to fall in love with the possible outcome. However, it's important that you ask yourself some serious questions if you are considering porcelain veneers to improve your smile. To make sure you make a confident, informed decision, we encourage you to first ask yourself the following, helpful questions:
"Do I just want a whiter smile?"
If you just want a whiter smile, you should know you have options. Porcelain veneers will certainly help you achieve a whiter, brighter smile with exceptional uniformity. This is because we will place ceramic shells over your teeth that have been customized to the shade you desire. However, for discoloration, you may also choose teeth whitening. Or, if you are suffering from an isolated stain, you can also choose dental bonding to cover a blemish.
"Do I need orthodontic care or mild improvement?"
Are you suffering from a serious malocclusion? What we mean by this is a misalignment of the way your top and bottom teeth and jaws fit together. In instances of minor alignment concerns (such as little gaps between teeth) you can often achieve the improvement you want with veneers. To address a comprehensive alignment issue, such as over bite, under bite, cross bite, open bite, overcrowding, or serious spacing, you may require orthodontic treatment like braces.
"Which treatments are right for me?"
To determine whether porcelain veneers or another treatment is best suited to your needs it is important you make decision about what you would like to improve. Some people feel strongly about perfecting every aspect of their smile while others become concentrated on a particular imperfection. For mild issues, veneers may be unnecessary.
"Do I want a smile makeover?"
Are you one of those patients who want to change just about everything? If you are looking to address many esthetic problems, you may wish to choose veneers for their ability to completely transform your smile.
ABOUT YOUR LIVONIA, MI DENTIST:
James Stewart, DDS, and our compassionate staff proudly serve patients of all ages from Livonia, Farmington Hills, Plymouth, Northville, Dearborn Heights, Garden City, and all surrounding communities. To schedule a consultation, call our office today at (734) 425-4400.