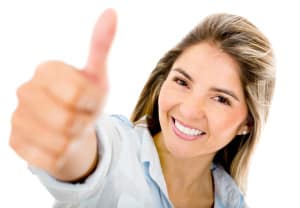 Are you missing some of your natural teeth? Perhaps you are only missing one tooth or multiple teeth. When it comes to open spaces in your mouth, even a single opening can present serious problems for the future of your oral health. Rather than attempting to hide your smile or rationalize reasons to avoid replacing your teeth, we encourage you to speak with us about your options. We offer beautiful dental prosthetics for our patients' diverse set of needs, so you can enjoy the following:
Restore Your Emotional Comfort. Most patients do not feel very happy about open spaces in their smiles. In fact, it can have a significantly negative effect on the way patients feel about their physical appearance. Rather than allow your social life to change (as well as your confidence) we encourage you to achieve a complete smile.
Rejuvenate Your Physical Comfort. Losing even one tooth may strongly impact your bite that was previously balanced. This may lead to strain on your teeth as well as your jaw joints. Avoid the potential for further tooth damage or stressed TMJs (jaw joints) by replacing your teeth.
Restore Daily Function. Choose dental prosthetics for your missing teeth as a means of improving your daily function. Just imagine the different ways your teeth support you on a daily basis: They allow you to speak and chew. By replacing teeth, you can enjoy the full function you deserve.
Protect Your Smile's Appearance. Ignoring a missing tooth may result in a misaligned smile. You see, an open space is an area into which surrounding teeth may begin to drift when left unaddressed. Fill the space with a dental prosthetic and your problem is solved.
Improve Hygiene. Open spaces may cause frustration with dental hygiene. From dealing with trapped food to frustration with uncomfortable cleaning, you will find that filling that space makes brushing and flossing a breeze.
ABOUT YOUR LIVONIA, MI DENTIST:
James Stewart, DDS, and our compassionate staff proudly serve patients of all ages from Livonia, Farmington Hills, Plymouth, Northville, Dearborn Heights, Garden City, and all surrounding communities. To schedule a consultation, call our office today at (734) 425-4400.