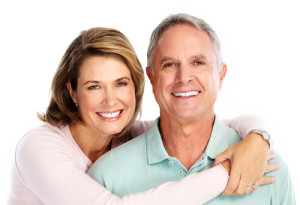 As your grow older, your oral health needs will change. Understanding the care that the elderly and older Americans will need is vital to maintaining a healthy smile. From checkups to tooth replacement, we can help our older patients enjoy a functional and attractive smile. Find out more about our approach to senior dental care.
Frequently Asked Questions About Senior Care in Livonia, MI
Question: Do seniors require checkups and cleanings?
Answer: Yes. Routine visits allow the dentist to exam your teeth and gums for the warning signs of dental health problems, including periodontal disease and tooth decay. Once we uncover a problem, we can provide treatment before the issue progresses and requires more intensive treatment. A cleaning also helps keep natural teeth stay healthy and whole. We recommend a checkup and dental cleaning once every six months.
Question: Does the doctor offer oral sedation?
Answer: Yes. To help our patients remain comfortable we offer oral sedation. This involves taking a pill shortly before the procedure, which allows the patient to enter a relaxed state. Since you may be groggy after the procedure, we suggest arranging for a friend or family member to bring your home.
Question: How will the dentist address dry mouth?
Answer: Dry mouth is a common problem for older people due to a variety of factors, including health issues and the use of certain medications. Dry mouth can boost the risk of developing gum disease. To fight this problem, we may recommend chewing sugar-free
Question: What are my tooth replacement options?
Answer: If you have multiple missing teeth, we can offer dentures to return your ability to eat and speak with comfort and ease. Dentures will look natural and fit comfortably, held in place with natural suction and possibly the additional help of an adhesive. We can also dental implant to secure fixed dentures.
ABOUT YOUR LIVONIA GENERAL DENTIST:
James Steward, DDS, and our compassionate staff proudly serve patients of all ages from Livonia, Farmington Hills, Plymouth, Northville, Dearborn Heights, Garden City, and all surrounding communities. To schedule a consultation, call our office today at (734) 425-4400.