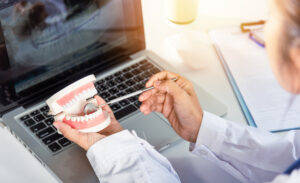 Gum recession is incredibly common in the United States, but still it seems to be something that we are all somewhat ashamed of admitting. People will go to incredible lengths to hide their periodontal disease, yet for some reason,they are hesitant to seek help from a trained healthcare professional.
Today, your Livonia, MI dentist writes on the importance of keeping track of any changes in your mouth!
Noticing A Change?
Changes in the mouth are always important to observe, as they signify where your health may be heading. When it comes to periodontal (or gum) health, these changes typically only increase. So with that said, it is important to track and discuss what is happening with your dentist.
Adhere as best as you can to a strict schedule with your examinations and cleanings, and this can help you in a couple of ways. The first is that a set schedule can help ensure that you actually follow through on the appointment. With our hectic schedules, it is easy to let work or family take priority over what can be seen as a routine visit. But it is vital that you keep up with your health, as well.
Secondly, routine visits allow for the dentist to be able to view your mouth at set intervals. As such, concerns such as growing misalignment can be identified sooner, rather than later. It's best to keep care preventive, when possible, not restorative. Our goal is to maintain as much natural healthy material as possible, to keep you being you!
What Could Be The Cause?
With most patients, the primary reason for periodontal disease is due to poor oral health hygiene. We understand, life sometimes gets in the way. But a proper home daily regimen is vital to the overall success of your health. Always make sure to brush twice daily, and before you go to sleep every night. Late night snacks can be seriously harmful if the proper steps are not repeated, as bacteria can have 8 hours of time to grow and reproduce without much to stop them. And flossing is also highly important, as is a daily oral rinse.
My Gums Are Already Receding!
If you are a part of the over 45% of Americans that are currently struggling with periodontal disease, you may have already noticed a shift in where your gumline lies. If that is the case, please schedule an appointment as soon as you can with your oral healthcare provider. You may require a gum graft to rectify the situation.
The most common type of these is called a free gingival graft. During this procedure, the dentist will first clean the site and remove any infected tissue. Then, the remaining gum will be stretched up to your healthy gumline and adhered to the tooth. A soft diet for about a week is all the recovery that most need!
For those with more extensive infection, a transplant graft may be necessary. With this, donor material is taken from the roof of the mouth, the soft palate, or from another area. This matter is then connected to the affected area after the infection has been cleared. The recovery is similar to the other form, as well, so for most, it doesn't significantly affec ttheir ability to work or live.
ABOUT YOUR LIVONIA, MI, DENTIST:
James Stewart, DDS, and our compassionate staff proudly serve patients of all ages from Livonia, MI, as well as Farmington Hills, Farmington, Plymouth, Northville, Novi, Dearborn Heights, Dearborn, Garden City, Westland, Redford, and the surrounding communities. To schedule a consultation, call our office today at (734) 425-4400.