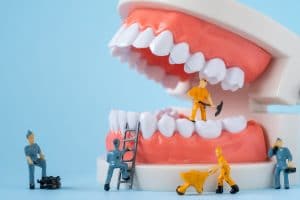 Did you know we have treatment options that address damaged, stained, or decayed teeth in as little as one visit? In fact, with dental bonding and contouring, we correct multiple issues in only one sitting! In today's blog, your Livonia, MI, dentist will look at how we provide more attractive smiles with bonding and contouring treatments.
The Dental Bonding Process
With dental bonding, we employ the same material we use to create lifelike fillings. Composite resin is a metal free mixture of glass and acrylic, one that can be tinted to match the color of the tooth. The material is safe for people of all ages too! The placement process involves removing decay from the tooth and cleaning it thoroughly. We then prepare and place the material in several layers. Afterward, we sculpt and shape the tooth as the composite resin cures under a light. Finally, we polish it for a more natural appearance.
With bonding, we can lengthen any teeth worn down by teeth grinding, and provide repair for minor chips and cracks. We also mask permanent teeth stains, the kind that would not otherwise respond to teeth whitening. Placement could be used to reshape malformed teeth too, and close embarrassing gaps between the teeth.
Contouring Your Teeth
In the same visit, we could also address esthetic concerns with contouring. Instead of adding special materials to the tooth, we actually sand and buff away outer structure to reshape the smile. We can remove pits, grooves, and rough patches in the surface of the smile, and also repair minor chips too. The procedure could also reshape overly large or misshapen teeth, and even dull the ones that appear sharp or pointed. Again, we can accomplish this all in one visit!
Your Cosmetic Consultations
How do you know if this is right for your smile? Everything starts with a cosmetic consultation, in which we carefully examine your smile with advanced technology. The exam allows us to identify the factors behind your esthetic concerns, so we can create a personalized treatment plan. We may also combine this with other treatments, such as teeth whitening, to help provide a makeover for your smile. If you have any questions about our bonding and contouring procedures, or if you would like to schedule a cosmetic consolation, then contact our team today. We want you to obtain a smile that fills you with pride, one you can't wait to show off to the world!
DO YOU HAVE QUESTIONS ABOUT COSMETIC DENTAL CARE?
We want to help rebuild your smile and address cosmetic issues in just one visit. For more information on our cosmetic solutions to esthetic concerns, then call the office of James Stewart, DDS in Livonia, MI, today at (734) 425-4400.