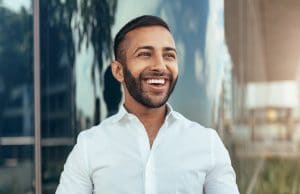 When you take excellent care of your teeth and oral health, it can be especially upsetting to realize that your smile's appearance isn't what it used to be. Unfortunately, some cosmetic smile concerns aren't avoidable; however, in many cases, we can correct them at our Livonia, MI, dental office with the right, custom-designed cosmetic dentistry treatment. With the goals of not only enhancing your smile's appearance, but also helping you optimize your immediate and long-term oral health, our custom treatment plans can help improve your smile in several different ways.
1. Brightening your smile's appearance
The staining of your teeth's surfaces is one of the most common cosmetic dental concerns you may experience. That's because teeth can stain over time from everyday activities like eating and drinking different foods and beverages. Even when your teeth are healthy, their appearance may become dull and less attractive. For many patients, we can quickly, safely, and effectively erase teeth stains with professional teeth-whitening. Depending on your needs and preferences, we can design an in-office whitening treatment that can be completed in a single visit, or a take-home kit that allows you to brighten your smile on your own time, at home.
2. Conservatively reshaping one or more teeth
While teeth stains are the most frequent concern, they aren't the only common cosmetic blemish that can affect your smile's appearance. For example, some teeth may not be spaced equally between the teeth on either side of them, creating noticeable gaps (or diastemas) in your smile. Others may become chipped or worn down, have jagged edges, develop rough patches of enamel, and more. To correct such issues in a minimally invasive manner, we may suggest cosmetic tooth bonding and/or contouring, which involves gently reshaping a tooth by sculpting it or bonding tooth-colored composite resin to its surface. Both treatments can achieve highly dramatic results while minimizing the need to alter your healthy, natural tooth structure.
3. Completely transforming one or more teeth
The nature of most cosmetic dental issues is to affect just the appearance of your teeth, which is why most cosmetic treatments can be designed to be minimally invasive. However, when multiple concerns affect several of your teeth at once, improving your smile may seem much more difficult. With porcelain veneers, we can often simplify the process of improving a smile's appearance by addressing multiple concerns at the same time. Veneers are super thin shells of porcelain that are custom-designed to mimic the size, shape, contour, color, shade, and texture of your healthy, natural teeth. When bonded to the front surface of one or more teeth, veneers can completely transform your smile while minimizing the extent of treatment you need.
Improve your smile with the right cosmetic treatment
With the right cosmetic dentistry treatment, we can design an improvement plan to correct all of your smile's unique concerns. For more information, or to schedule a consultation, call the office of James Stewart, DDS in Livonia, MI, today at (734) 425-4400.