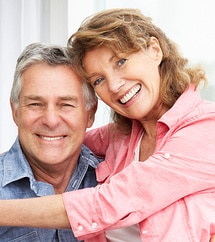 Oral Cancer in Livonia, MI
Our preventive dentistry services at the offices of James R. Stewart, DDS, include checking your mouth for abnormalities that may point to oral cancer. While the idea of coming in for an oral cancer screening may cause a bit of anxiety, consider the facts. The sooner we find and treat oral cancer, the higher your survival rate. Over 25,000 new cases develop in the U.S. each year, so come in for regular checkups for continued health.
What is Oral Cancer?
Oral cancer is the abnormal growth of cells in and on your mouth, which may lead to tumors. Although the symptoms associated with oral cancer may seem associated with some other condition, such as gum disease, the moment you notice any change in your oral tissue make an appointment for a professional diagnosis.
This form of cancer may affect the head and neck, typically beginning on your tongue, lips, and gums. While cancer will typically result in a tumor, when left untreated it can metastasize, meaning the disease spreads to other parts of your body often through the lymphatic system. The importance of treating cancer before it begins to metastasize cannot be overstated.
Oral cancer treatments include the following:
Surgical removal of tumors
Radiation therapy
Chemotherapy
A combination of treatment options
What Are Oral Cancer Screenings?
Our team will provide an oral cancer screening during your regular checkup. Dr. Stewart will look for symptoms of oral cancer by monitoring your oral cavity for changes in color, consistency, lumps, or ulcerations. Schedule an appointment with us immediately if you notice changes on your lips, tongue, cheeks, or other oral tissue. Symptoms of oral cancer include:
Red or white splotches in your throat
White patches under your tongue
Bleeding sores that go away and return
Dry mouth
Mouth ulcers
The feeling that something is stuck in your throat
Hoarse speaking
Chronic infections
Sore throat
Bleeding throat
Painful mouth motions, such as chewing or speaking
Am I a Potential Candidate?
Anyone can develop oral cancer, whether or not you practice good oral hygiene. Make sure you attend your bi-annual checkups so we can observe and track changes if they occur. Certain factors may increase the risk of oral cancer, including:
Tobacco use: About 80 percent of people with oral cavity and oropharyngeal cancers use tobacco in some form.
Alcohol use: About 70 percent of people diagnosed with oral cancer drink heavily. The risk for oral cancer is significantly higher for those who both drink and smoke in excess.
Human papillomavirus (HPV): HPV is the most common sexually transmitted infection, and about 25 percent of people diagnosed with oral and oropharyngeal cancers are infected with HPV.
Schedule Your Appointment Today!
At the offices of James R. Stewart, Jr., DDS, PC, we look forward to providing you with comprehensive dental services for optimal oral health. We look forward to creating lasting, caring relationships with each of our patients for pleasant visits and lifelong satisfaction. Please contact us at your earliest convenience to schedule an appointment with Dr. Stewart at our Livonia office located on Middlebelt Road. We proudly serve patients of all ages from Livonia, Farmington Hills, Farmington, Plymouth, Northville, Novi, Dearborn Heights, Dearborn, Garden City, Westland, Redford, and surrounding communities.